At Apogee Signs, we understand that your business needs to stand out in order to succeed. That's why we offer high-quality, custom signs that are tailored to your specific needs and preferences.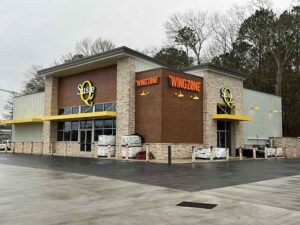 Our team of experienced sign designers, fabricators, and installation techs use only the highest-quality materials and state-of-the-art equipment to design and manufacture custom signs that capture the essence of your brand identity. We offer a wide range of sign types and styles to choose from, including storefront signs, vehicle wraps, LED signs, channel letters, monument signs, and more.
If you're looking to attract more customers and make a lasting impression with your business in and around the Thomasville area,  look no further than Apogee Signs.
When you choose Apogee Signs for your custom signs, you can rest assured that you're getting a sign that not only looks great but is also built to last. Our skilled craftsmen have years of experience and use only the best materials to ensure that your sign continues to make a lasting impression for years to come.
At Apogee Signs, we take pride in our ability to work closely with our clients to understand their unique needs and preferences. We know that your sign is a crucial component of your marketing strategy, which is why we are committed to delivering results that exceed your expectations.
Whether you're a small business looking to attract more foot traffic or a large organization looking to make a statement, we have the tools and expertise to create a custom sign that perfectly captures your brand identity. We take into account factors such as color, font, and style to design a sign that makes a lasting impression on your customers.
Choose Apogee Signs for custom signs in Thomasville and experience the difference that high-quality, custom signage can make for your business. Contact us today to schedule a consultation and see how we can help take your business to the next level.