Restaurant signage can come in many forms from neon signs to digital displays. It can be used to communicate the message of the restaurant and its brand to potential customers. Whether it's a diner sign, cafe signage, or a restaurant sign, they all have one thing in common – they help potential customers identify and remember the restaurant. With the right design and placement, your restaurant signs can be an effective tool for increasing visibility for your business and attracting more customers.
Word of mouth is important in the restaurant business and you can only get that going if you have customers who rave about your fare to their friends and family about their food and experience. Proper branding and restaurant signage will entice the community to visit your restaurant and keep your customers coming back for more.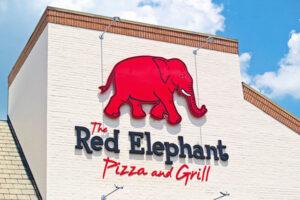 Logo design and signage lighting are important factors to consider when trying to promote your restaurant to the community. Apogee Signs can partner with you to create eye-catching branding, well-constructed exterior and interior signage, and sign lighting methods that make your restaurant stand out from the crowd.
Whether you are rebranding your restaurant, starting a new venture, want to enhance the ambiance of your establishment with new interior signage or simply need to update your store signage, Apogee Signs is here to help. No job is too big for us to handle. We are licensed and insured to fabricate, permit (if necessary), and install all signage for your restaurant.