We offer a wide range of high-quality custom signage solutions that can help your restaurant attract more customers and create a lasting impression. Our team of experienced designers and sign makers understand the unique needs of the restaurant industry and are committed to delivering custom-designed signs that not only look great but also help you achieve your business goals. With years of experience in the sign industry, we know what it takes to create eye-catching, attention-grabbing signs that will help your restaurant stand out in a crowded marketplace. So whether you're looking to promote your restaurant's brand, showcase your menu, or simply draw more foot traffic, we have the perfect signage solution for you. Browse our selection of restaurant signs today and let us help you create a sign that will leave a lasting impression on your customers.
We know word of mouth is important in the restaurant business and you can only get that going if you have customers who rave about your fare to their friends and family about their food and experience. Proper branding and restaurant signage will entice the community to visit your restaurant and keep your customers coming back for more.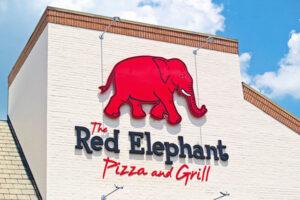 Logo design and signage lighting are important factors to consider when trying to promote your restaurant to the community. Apogee Signs can partner with you to create eye-catching branding, well-constructed exterior and interior signage, and sign lighting methods that make your restaurant stand out from the crowd.
Whether you are rebranding your restaurant, starting a new venture, want to enhance the ambiance of your establishment with new interior signage or simply need to update your store signage, Apogee Signs is here to help. No job is too big for us to handle. We are licensed and insured to fabricate, permit (if necessary), and install all signage for your restaurant.