Do you have an older sign that is unsightly, or has been damaged? Let our skilled technicians get your signs back in tip-top shape, looking great and working the way they're supposed to. We keep an inventory of the most commonly needed sign repair parts on our trucks and can often fix a sign in only one trip, saving you time and money.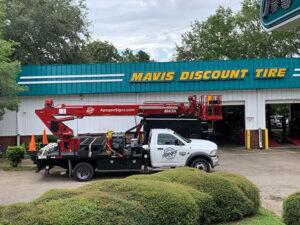 As a local company near Tallahassee, FL, we understand how much you value your company and any advertising advantage you can get. We're family-owned and –operated, meaning that we'll always provide you with quality, friendly service from the first time you contact us until well after we've repaired your signs.
We also are a licensed electrical contracting company, so we can handle any kind of sign repair your business needs. 
Have a non-electrical sign that just uses letters and numbers to advertise to your customers? We can still help. We have automated letter-bending machines that can fix any phrase, letter, or number on your sign.
Let Us Repair Your Sign Quickly!
When you need a sign repaired, you don't have to worry about the work being too costly. We work with any budget so you can take advantage of our expert sign repair services while still staying within your business's guidelines.