A well-maintained and attractive sign is critical for any business or organization, as it serves as a first impression for potential customers or clients. Whether you're dealing with a minor issue such as a burnt-out bulb or a major problem like structural damage, our team of skilled technicians has the expertise and tools necessary to get your sign back up and running in no time. We understand the importance of timely and efficient service, and our commitment to customer satisfaction is second to none.
We also know that every client deserves the best possible service, regardless of the size or scope of the project. Our team is equipped to handle a wide variety of sign types, from traditional vinyl banners to modern digital displays, and everything in between. We pride ourselves on our attention to detail and our ability to identify the root cause of any issue, allowing us to provide long-lasting solutions that meet the unique needs of each client. In addition to repair services, we also offer sign maintenance, installation, and design services to ensure that your sign remains in top condition for years to come. Trust Apogee Signs to keep your business looking its best.
Apogee Signs understand that signs play a crucial role in your business's success, and a malfunctioning or broken sign can negatively impact your customer's experience. Our team of licensed sign contractors is here to provide prompt and reliable repair services to get your signage up and running again.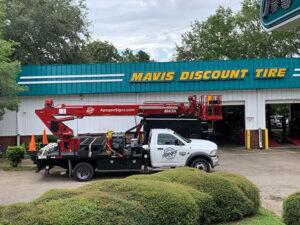 Why Hire a Licensed Sign Contractor for Repair?
When it comes to sign repair, it's important to hire a licensed contractor who has the necessary skills and experience to get the job done right. Here are some reasons why you should consider hiring a licensed sign contractor:
Safety: Sign repair can be dangerous work, especially when dealing with large or high signs. Licensed contractors have the necessary training and equipment to safely repair your sign without putting themselves or others at risk.
Quality: Licensed sign contractors have the knowledge and experience to diagnose and repair any issues with your sign. They will ensure that your sign is repaired correctly the first time, preventing further damage and saving you money in the long run.
Compliance: In many cases, sign repairs require permits and must be done in compliance with local regulations. Licensed sign contractors are familiar with these regulations and will ensure that your sign is repaired in accordance with all applicable laws.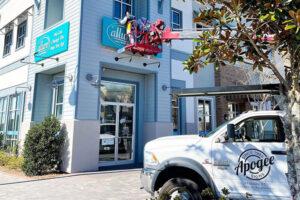 Our Sign Repair Services
We offer a wide range of repair services for all types of signs, including:
Electrical: If your sign has electrical issues, our licensed contractors can troubleshoot and repair any problems with the wiring, transformers, or lighting components.
Structural: Our team can repair any damage to your sign's structure, including broken supports, loose bolts, and damaged frames.
Digital: We can troubleshoot and repair any issues with your digital signage, including software malfunctions, connectivity issues, and hardware failures.
No matter what type of sign repair you need, our team of licensed sign contractors is here to help. Contact us today to schedule a consultation and get your sign back in working order!