Elevate your trade show booth in Tallahassee into a captivating and professional showcase with our selection of trade show table covers. Whether you're a newcomer to the exhibition scene or a seasoned pro, you understand the significance of a well-designed booth.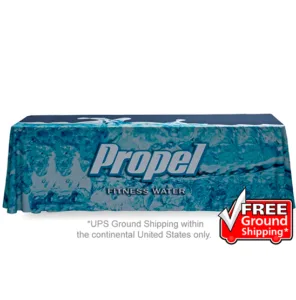 Among the essential components of an impressive trade show booth are the table treatments, including table runners, tablecloths, and other coverings. Custom printed table throws enable passersby to instantly connect with your brand and immerse themselves in your booth's ambiance.
A quality table cover can elevate your company's presentation not only at trade shows in Tallahassee but also at business conventions, hotel events, job fairs, storefronts, farmers' markets, and more. For vendors looking to boost brand awareness in Tallahassee, custom tablecloths are an absolute necessity.
Table space is precious real estate in any trade show or event in Tallahassee. It's where vendors and exhibitors engage with potential customers most effectively. A well-dressed table serves as the perfect platform for showcasing giveaway merchandise, printed materials, samples, handouts, business cards, and other promotional items. Don't squander this prime advertising space with a mundane table or lackluster tablecloth.
At Apogee Signs in Tallahassee, we offer an extensive array of table covers suitable for trade show exhibits and various events. With hundreds of styles, colors, and sizes to choose from, you're sure to find the perfect tablecloth to meet your unique needs and preferences.
Our range of trade show and event table covers offers a variety of options to cater to your specific needs in Tallahassee. If you're looking for an economical choice that quickly transforms your table into a presentable display, our Plain Covers are a practical solution. On the other hand, our Custom Printed Styles provide a powerful branding opportunity, available in single, multi, and full-color options, allowing you to showcase your logo and graphics effectively. For vendors seeking flexibility in their displays, our Convertible Table Throws are an ideal choice.
No matter your business or budget size, Apogee Signs offers a diverse range of options for your trade show table cover needs in Tallahassee. From branded tablecloths to eye-catching table runners, we maintain a substantial inventory of coverings to help businesses in Tallahassee convey their professionalism effectively. Elevate your presentation and leave a lasting impression with our high-quality trade show table covers in Tallahassee.
Top 5 Questions Asked About Event Table Covers