Digital message boards are traditionally found indoors, but with advancement in technology, we can now take your business to a new level with custom outdoor electronic message center. Display messages exactly how you want passersby to learn about your business to bring them in and acquire new clients.
Electronic Messaging Centers are often confused with other forms of business or commercial signs. 
Digital message boards are traditionally found indoors and you'll often see them in kiosks, retail stores, hospitals, cafes, airports, and anywhere there's a lobby or waiting room. With the changes in technology, we can now take your outdoor signage to a new level.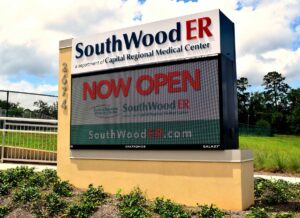 Digital display signage is for businesses that want to stand out from the competition. They work great for companies that attend a lot of events and need a high-quality display method for their booth or display.
Most electronic message board are used with static or slightly moving graphics or creatives. Higher-quality displays will allow for full video and touch or interactive functionality.
Apogee excels in the area of electronic digital signage and takes a very hands-on approach. To ensure you get exactly what you need, we take a very consultative approach.
What is the exact use of the sign?

Where and how does it need to be mounted?

Will it need to be suitable for transportation?

Many factors go into finding the perfect digital sign for your specific needs. Not to worry, our experienced signage sales staff can help you design the perfect display signage for your business.