Indoor signs are an essential part of any business. Whether it's a retail store, restaurant, office building, or even a home, signs inside can help customers and visitors find what they need quickly and easily. Indoor signs come in many shapes and sizes and can be used to direct people to specific areas, advertise products or services, or provide safety information. With the right indoor signage strategy in place, businesses can increase customer engagement and satisfaction while making their company stand out from the competition.
Indoor signage allows all businesses to brand their office space and is often the first impression your potential customer gets of your business. Using attractive wall signs as information or directional signs will give your customers an opinion about your business.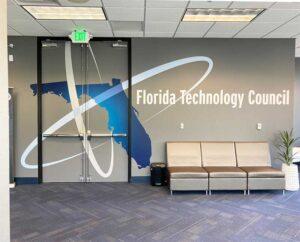 Indoor signs can be any number of signage options when it comes to creating and producing your vision. Many times, indoor signs are a beautiful statement piece to mount behind the receptionist or are the first internal impression of your business. Indoor signs can also be used for directions and location identification in multi-tenant locations.
When it comes to indoor signs, Apogee Signs partners with Tallahassee businesses of all kinds. In most cases, these designs are for churches, hospitals, large offices, law firms, shopping malls, and any business looking for a custom lobby sign that will provide a striking second impression. (The first impression is the beautiful new custom exterior sign we just completed)
The first step in our process is to understand your brand identity. Once you share your vision, we begin the design of your custom interior signage. This will provide a consistent visual presentation across your business and once approved we will move on to the production process. Finally, we'll assemble your new commercial interior signs!
From A to Z, and everywhere in between, Apogee Signs is the right business partner when it comes to your interior signage project.