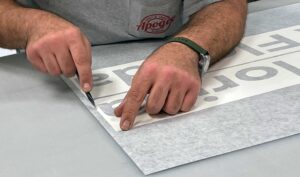 What is Vinyl Lettering?
Vinyl lettering is a type of adhesive vinyl material that is cut into specific shapes, letters, or designs and used for lettering or graphics on various surfaces. It is a popular choice for businesses to add personalized text or graphics to surfaces such as walls, windows, vehicles, and more.
How can my business use vinyl lettering?
Available in a variety of colors and finishes the vinyl can be used in various ways to promote and enhance your business. Here are some common places where vinyl lettering can be used:
Storefront windows: You can use vinyl lettering to display your business name, logo, store hours, and other important information on your storefront windows.
Vehicles: Vinyl lettering is an effective way to advertise your business with your business name and contact information on your company vehicles.
Trade show displays: Use vinyl lettering to create a professional-looking trade show display.
Office walls: Use vinyl lettering to display motivational quotes, mission statements, and other important information on your office walls.
Point of sale displays: Vinyl lettering can be used to create eye-catching point of sale displays.
Banners and posters: Vinyl lettering is a great way to create custom banners and posters for your business.
Overall, vinyl lettering is a versatile and cost-effective way to promote your business and improve its visibility.