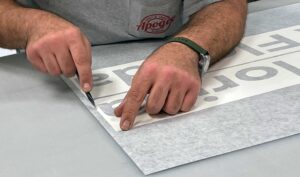 Transform any surface into a powerful advertising tool with our high-quality vinyl lettering. Whether you're a small business owner, a creative professional, or an individual looking to add a personal touch, our vinyl lettering solutions are designed to meet your needs. If you're looking to make a bold statement and increase your brand visibility, our high-quality vinyl lettering is the answer. With Apogee Signs, you can bring your ideas to life and make a lasting impression.
Why Choose Vinyl Lettering?
Versatility that Impresses: Vinyl lettering offers unparalleled versatility, allowing you to enhance virtually any smooth surface with your message. Whether it's your storefront, office space, vehicle, or even a promotional event, our vinyl lettering can transform any space into an attention-grabbing advertising platform. The possibilities are endless!
Customization to Reflect Your Unique Style: We understand the importance of standing out from the competition. With our vinyl lettering services, you have the freedom to customize every detail to match your brand or personal aesthetic perfectly.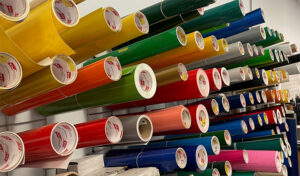 Choose from a wide range of fonts, colors, sizes, and styles to create a design that captures your vision and leaves a lasting impression.
Durability that Endures: When it comes to signage, durability is key. Our vinyl lettering is built to withstand the test of time. Using premium materials and advanced printing techniques, we ensure that your lettering remains vibrant, even in challenging weather conditions. It's UV-resistant, fade-resistant, and waterproof, ensuring your message stays bold and impactful for years to come.
Cost-Effective Advertising: Vinyl lettering offers a cost-effective way to promote your business or express your creativity. Compared to traditional signage, vinyl lettering allows you to maximize your marketing budget without compromising on quality or impact. With our competitive pricing, you can achieve a professional look that fits your budget.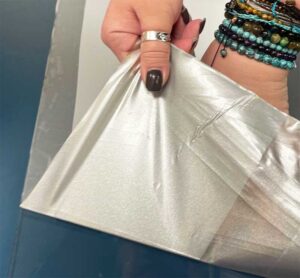 Easy Application for a Hassle-Free Experience: Applying vinyl lettering is quick and hassle-free with our user-friendly process. Each order comes with detailed instructions and all the necessary tools for a smooth installation. If you prefer, our professional installation team can assist you onsite, ensuring a flawless result. Say goodbye to complicated installations and hello to effortless elegance.
Apogee Signs, Your Vinyl Lettering Experts:
At Apogee Signs, we are committed to delivering outstanding vinyl lettering solutions. With our expertise and attention to detail, we strive to exceed your expectations. When you choose us, you can expect:
Superior craftsmanship: We take pride in our work and ensure that every vinyl lettering project is crafted to perfection.
Prompt delivery: We understand the importance of meeting deadlines and strive to deliver your vinyl lettering in a timely manner.
Exceptional customer service: Our friendly and knowledgeable team is here to assist you every step of the way, providing excellent support and guidance.
Unbeatable value: We offer competitive pricing without compromising on quality, giving you the best return on your investment.
Unlock the power of vinyl lettering and take your brand to new heights. Contact Apogee Signs today to discuss your vinyl lettering needs and let us help you make a lasting impression.