When it comes to Advertising Flags, we offer two distinct options to cater to your specific needs. Our Feather Flags are expertly designed to soar above the competition, featuring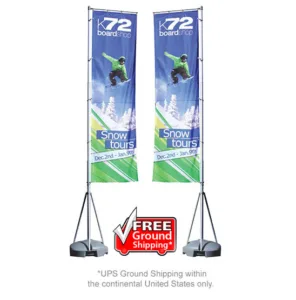 vibrant, full-color displays that are perfect for outdoor advertising, trade shows, grand openings, and special events. On the other hand, our Banner Flags provide versatility for both indoor and outdoor applications, boasting sleek and professional designs that make them an excellent choice for storefronts, car dealerships, and various other settings. They are built to withstand the elements, ensuring durability in Tallahassee's ever-changing weather conditions.
Taking your advertising to the streets of Tallahassee is a breeze with our Outdoor Advertising Flags. Whether you're organizing a street festival, hosting a real estate open house, or planning a sidewalk sale, our flags are engineered to endure the elements while maximizing visibility.
If you're looking to express your unique brand or event, our Custom Flags and Flag Banners are the perfect solution. We work closely with you to create flags that perfectly encapsulate your identity, be it for a business, product, or special celebration. Our Flag Banners offer a blend of elegance and visibility, suitable for both indoor and outdoor settings, trade shows, and event decoration.
Our range of Promotional Flags and Banners is versatile, with options designed to meet your specific advertising needs. From impressive, large-scale promotional banners to eye-catching, compact flags, our commitment to high-quality printing and durable materials ensures that your message shines brightly in Tallahassee.
Flags have always been a timeless and impactful advertising tool, and our selection includes various flags specifically designed for advertising purposes. Whether you're in the market for traditional flags, eye-catching feather flags, or personalized solutions, our flags for advertising are guaranteed to capture attention and leave a memorable impression right here in Tallahassee.
Top 5 Questions Asked About Advertising Flags