When it comes to hosting events outdoors in Tallahassee, having the right canopy tent can make a big difference. Whether you're organizing a trade show, outdoor festival, FSU tailgating, or any other outdoor get-together in Florida's capital city, our foldable printed tents are a great choice. They are both useful and stylish, and they won't break the bank.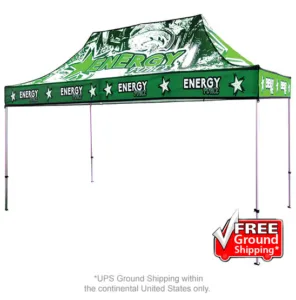 These custom canopy tents are made to be practical and look nice, which means they're perfect for any outdoor event in Tallahassee.
What's cool about our custom canopy tents is that you can personalize them to match your event. We know that every event in Tallahassee is unique, and it's important to make your brand stand out. That's why we offer lots of ways to customize your canopy tent. This means your tent won't just be a place to stay dry or shaded, but it can also help create a memorable brand experience for everyone who attends your event.
But that's not all. Our canopy tents are also practical and won't break the bank. They're made from strong materials, so they can handle the challenges of outdoor events in Tallahassee, whether it's hot weather or a surprise rain shower. Plus, they're easy to set up and transport, which saves you time and effort.
So why settle for a regular tent when you can have an awesome one for your outdoor event in Tallahassee? If you want to take your event to the next level, get in touch with us today. We'll talk about what you need, and together, we can make a canopy tent that not only meets your needs but also helps you make a big impression at your outdoor events in Tallahassee.
Top 5 Questions Asked About Canopy Tents