Medical signage helps to provide information to patients and visitors, as well as staff, about the location of certain areas and services. Medical signs can be used in hospitals, clinics, nursing homes, doctor's offices and other medical facilities. These informative signs can range from emergency signs such as fire exits and emergency exits to general information signs such as those indicating the location of a restroom or cafeteria. If your medical facility needs to comply with ADA sign requirements, or you are tasked with creating new medical signage at your facility, Apogee Signs can help you out.
Medical signage is not the place to skimp when it comes to a hospital or your medical facility. Both large and small healthcare facilities need informative and directional signage.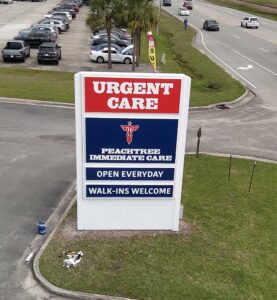 A patient going to the emergency room or urgent care center cannot afford to get lost during this critical time. By adding branded signage that instills trust and provides the assistance you need, patients will ensure they are in the right place.
Inside, your medical facility is full of people facing unforeseen events in their lives personally or with their families and you want them to find the location they need to be quickly. Most medical offices and hospitals are large, complex, and often confusing to visitors, so you should have informational signage around your medical facility. Without an effective medical signage strategy and implementation, navigating a large hospital can be stressful for patients and their loved ones.
Another major benefit of adding medical signage to your facility, studies show that higher patient satisfaction scores are common in facilities where patients can navigate the corridors of your medical building. Apogee Signs delivers cost-effective solutions for the healthcare and medical office settings and you can trust us to create outdoor signs that welcome and direct visitors to indoor sign displays that showcase department sections and room numbers, dozens of signs are needed in a hospital property or medical facility.