In the healthcare industry, effective signage is more than just a wayfinding tool – it can also serve as an important means of communication, a branding opportunity, and even a way to promote patient safety. That's why Apogee Signs specializes in providing custom, high-quality signage solutions tailored to the specific needs of medical facilities. With a broad range of products and services available, including directional signs, regulatory signs, ADA-compliant signage, and more, Apogee Signs is the go-to choice for healthcare providers looking to enhance their patients' experience.
We understand that medical facilities have unique signage requirements, whether it's due to specific regulations, branding guidelines, or simply the need to convey complex information in an easily digestible format. That's why their team of experts works closely with each client to understand their needs and develop a custom signage plan that meets all their requirements. From design and fabrication to installation and maintenance, Apogee Signs is committed to providing high-quality, visually stunning signage solutions that make a positive impact on the healthcare industry.
Medical signage is not the place to skimp when it comes to a hospital or your medical facility. Both large and small healthcare facilities need informative and directional signage.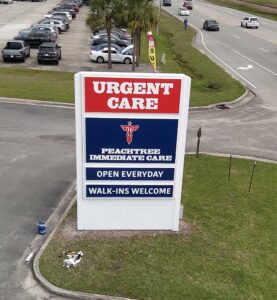 A patient going to the emergency room or urgent care center cannot afford to get lost during this critical time. By adding branded signage that instills trust and provides the assistance you need, patients will ensure they are in the right place.
Inside, your medical facility is full of people facing unforeseen events in their lives personally or with their families and you want them to find the location they need to be quickly. Most medical offices and hospitals are large, complex, and often confusing to visitors, so you should have informational signage around your medical facility. Without an effective medical signage strategy and implementation, navigating a large hospital can be stressful for patients and their loved ones.
Another major benefit of adding medical signage to your facility, studies show that higher patient satisfaction scores are common in facilities where patients can navigate the corridors of your medical building. Apogee Signs delivers cost-effective solutions for the healthcare and medical office settings and you can trust us to create outdoor signs that welcome and direct visitors to indoor sign displays that showcase department sections and room numbers, dozens of signs are needed in a hospital property or medical facility.