After years of working with the churches in the North Florida and South Georgia area, we understand that churches have unique needs when it comes to signage, which is why we offer both traditional and digital church signs that are fully customizable.
Our traditional signs are available in a range of sizes, styles, and designs, and can be tailored to reflect your church's personality and message. We use high-quality materials and state-of-the-art technology to ensure that your sign not only looks great but also stands up to the elements and remains durable for years to come.
Our digital signs provide even greater flexibility and versatility in sharing your message, with the ability to display text, graphics, and videos, and remote access capabilities for instant updates from anywhere. We understand that every church has unique messaging needs, and our digital signs are fully customizable to meet those needs. Our team of experienced professionals will work with you to design a sign that not only reflects your church's message but also engages your community in a meaningful way.
Our extensive range of church signs includes digital church signs, monument signs, indoor signs and more. Each type of sign offers its own unique benefits, and we can help you choose the right one for your specific needs and budget.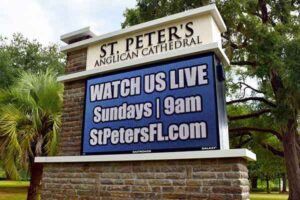 Digital Church Signs
Our digital church signs are designed to grab the attention of passersby with their bright LED displays and eye-catching graphics. These signs are programmable, allowing you to display messages, announcements, and event schedules in real-time. With their easy-to-read displays, digital church signs are an excellent way to communicate your message to the community, attract new visitors, and keep your congregation informed.
Monument Signs
Monument signs are a popular choice for churches as they offer a lasting and durable solution for outdoor signage. Our monument signs can be custom-designed to match the architecture of your building, and we can include your church logo, message, and any other important information you would like to display.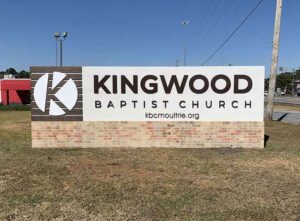 Our high-quality materials ensure that your monument sign will look great and withstand the elements for years to come. Another option for your monument sign is to add an electronic message center to show announcements and messages to anyone driving by.
Indoor Signs
Indoor signs are an essential component of any church's signage strategy. We offer a wide range of indoor signs, including directional signs, informational signs, inspirational signs, donor recognition signs, and safety and security signs. Our indoor signs are designed to help guide visitors through your church, provide important information, and create a welcoming atmosphere for your congregation.
In addition to our design and installation services, we also offer maintenance and repair services to keep your church signs looking great and functioning properly. Our team is always available to help with any questions or concerns you may have about your signage.
Contact us today to learn more about our church signs and services, and to schedule a consultation with one of our signage experts. We look forward to working with you to create a beautiful and effective signage solution for your church.