After spending many years working with churches in North Florida and South Georgia, we've learned that churches have special needs when it comes to signs. That's why we have two types of signs available: traditional and digital church signs, and both can be customized to your liking.
We have a wide variety of church signs, including digital church signs, monument signs, and indoor signs. Each type has its advantages, and we can help you choose the one that's right for your specific needs and budget.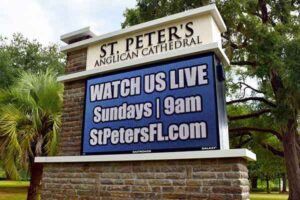 Digital Church Signs
Our digital church signs are designed to catch people's attention with bright LED displays and eye-catching graphics. You can program them to show messages, announcements, and event schedules in real-time. With easy-to-read displays, digital church signs are a great way to communicate with your community, attract new visitors, and keep your congregation informed.
Monument Signs
Monument signs are a popular choice for churches because they're durable and long-lasting outdoor signs. We can customize them to match your building's architecture and include your church's logo, message, and important information.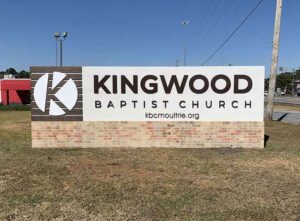 Our high-quality materials ensure that your monument sign will stay looking good and withstand the elements for years. You can even add an electronic message center to display announcements and messages to people passing by.
Indoor Signs
Indoor signs are an essential component of any church's signage strategy. We offer a wide range of indoor signs, including directional signs, informational signs, inspirational signs, donor recognition signs, and safety and security signs. Our indoor signs are designed to help guide visitors through your church, provide important information, and create a welcoming atmosphere for your congregation.
In addition to our design and installation services, we also offer maintenance and repair services to keep your church signs looking great and functioning properly. Our team is always available to help with any questions or concerns you may have about your signage.
Contact us today to learn more about our church signs and services, and to schedule a consultation with one of our signage experts. We look forward to working with you to create a beautiful and effective signage solution for your church.