Hotel signs are an integral part of a hotel's overall aesthetic. They help guests identify the entrance and other important areas of the building, as well as provide directions to services and amenities. Interior hotel signs can be used to create a sense of elegance and sophistication in the lobby or other public areas, while exterior hotel signage can be used to draw attention from passersby. Both types of signs should be designed with care in order to effectively communicate the desired message to guests.
No matter if you are in charge of one hotel or multiple hotel properties, there are many factors to consider when ordering and installing signage in your hotel. Indoor signs and outdoor signs are generally not made from the same material.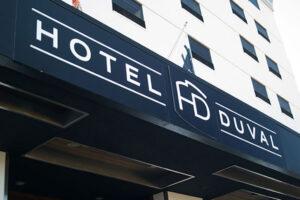 Typically, you will find outdoor signs constructed of solid surface materials, steel, aluminum, and plastic to name a few, which make these signs more durable and stand up to the elements better.
The purpose of hotel signage is not only to help your guests find their way around your hotel but also to allow you to brand the interior and exterior areas of your hotel. It's important to create a unique brand identity for your hotel that sets it apart from other hotels in the area.
Make sure to create branded signage not just for the entrance of your hotel, but throughout the entire hotel property. This will help create a feeling of cohesion and increase brand awareness and recognition.
Another type of signage required in hotels in the United States is ADA-compliant signage.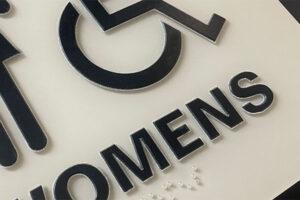 ADA signage assists guests with disabilities or vision issues. Apogee Signs can create custom ADA signs that can enhance your hotel and guide your guests.
As important as it is to have beautiful and efficient signage in your hotel, you MUST make sure that your signs are permitted and compliant with your city, county, or state municipality code.
When you choose Apogee Signs to create your signage, we'll take care of all site surveys and permitting so you can be sure your signs are installed and compliant with the code.