Regulatory signs are a crucial part of traffic safety. These signs communicate legal requirements and restrictions to road users, regulating traffic behavior and ensuring the safety of everyone on the road.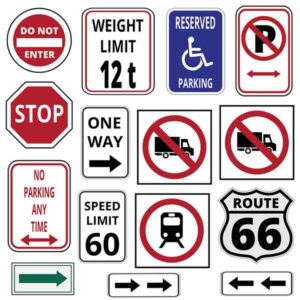 From speed limits and parking regulations to lane usage rules and other important traffic laws, regulatory signs play a crucial role in maintaining orderly traffic flow and preventing accidents. They can be found on all types of roads, from rural highways to residential roadways to urban streets, and are also used in parking lots to indicate where parking is allowed or prohibited. Construction zones use regulatory signs to indicate changes in traffic patterns, temporary speed limits, and other hazards associated with road construction.
At Apogee Signs, we specialize in creating custom regulatory signs that meet your specific needs and comply with all regulations. Our signs are made from durable materials to ensure that they are visible and legible for many years, and we use reflective materials on many of our signs to improve visibility in low light conditions. Whether you need signs for a construction zone, a parking lot, or any other setting, we can create custom signs that meet your requirements and help ensure the safety of everyone on the road.
Ordering custom regulatory signs from Apogee Signs is easy. Simply contact us with your requirements, and our team of experts will work with you to create signs that meet your needs. We offer a wide range of customization options, including size, color, and text, to ensure that your signs are tailored to your specific requirements. With our high-quality signs and exceptional customer service, you can trust Apogee Signs to help you create a safer driving environment.
Frequently Asked Questions About Regulatory Signs
As drivers, cyclists, and pedestrians, we encounter regulatory signs on a daily basis. These signs play a crucial role in regulating traffic behavior and ensuring the safety of everyone on the road. However, with so many different types of regulatory signs and guidelines governing their placement and use, it's common to have questions about them.
Below we've compiled a list of the top 10 frequently asked questions about regulatory signs, providing answers and insights to help you better understand these important traffic safety tools.