Effective law office signage can make a lasting impression on both potential and existing clients and helps create a professional atmosphere and ensure that clients can easily locate your office. Interior law office signs, such as lobby signs and directional signs, can provide important information and make navigating the office easy for clients. Meanwhile, exterior attorney's office signs, including building identification, hours of operation, and special offers, can attract potential clients and help build brand awareness.
Working with Apogee Signs, attorneys can create high-quality and effective signs that accurately reflect their brand image and help build a strong reputation in their community. Professionally designed and installed signs can showcase the quality of services offered and convey a sense of professionalism, which is crucial in establishing trust with clients. Moreover, incorporating visually appealing elements and using high-quality materials can add to the overall aesthetic of your office and leave a lasting impression on clients.
The evidence is mounting that you need a new law firm sign. Show your firm's confidence and professionalism with a custom law office sign for your practice.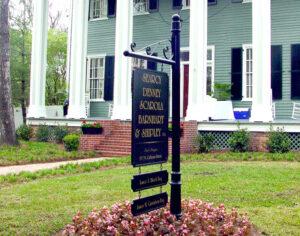 Whether you need lobby signage with a traditional look, signage with more of a modern look, or something entirely different, Apogee Signs can work with you to create the perfect law office signs ideal for indoor office lobbies and outdoor signage.
Most Law Offices are looking for traditional/classic style lettering, but in some cases, you may require a custom logo or special law firm signs. Apogee Signs can incorporate a custom logo or font in all signage options we offer.
If you think it, we can design it and help your law firm make a case your clients can't ignore.
Common Questions About Law Office Signs