Law office signage is an important part of any attorney's office. It helps to create a professional atmosphere and ensure that clients know where to find you. Interior law office signs can include lobby signs, directional signs, and other informative signs. Exterior attorney's office signs can include building identification, hours of operation, and special offers. With the right law office signage in place, your firm will be well-positioned to attract new clients and make a lasting impression on existing ones.
The evidence is mounting that you need a new law firm sign. Show your firm's confidence and professionalism with a custom law office sign for your practice.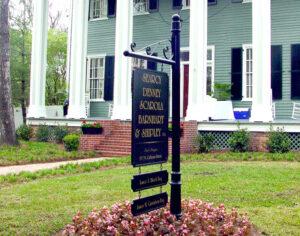 Whether you need lobby signage with a traditional look, signage with more of a modern look, or something entirely different, Apogee Signs can work with you to create the perfect law office signs ideal for indoor office lobbies and outdoor signage.
Most Law Offices are looking for traditional/classic style lettering, but in some cases, you may require a custom logo or special law firm signs. Apogee Signs can incorporate a custom logo or font in all signage options we offer.
If you think it, we can design it and help your law firm make a case your clients can't ignore.