Custom outdoor signs from Apogee Signs are the perfect solution to make your business or organization stand out. Our team of skilled professionals will work closely with you to create a one-of-a-kind sign that perfectly reflects your brand's identity and captures the attention of your target audience.
We offer a wide variety of high quality materials and styles to choose from, ensuring that your outdoor sign is as unique as your business. Whether you're looking for a bold and eye-catching illuminated sign, a sleek and modern metal sign, or a classic and timeless wooden sign, we've got you covered. Our state-of-the-art design and manufacturing technology allows us to create signs of all shapes and sizes, from small directional signs to large billboard-style displays.
Our commitment to quality and customer satisfaction is unmatched in the industry. We use only the highest quality materials and the latest techniques to ensure that your custom outdoor sign is not only visually stunning, but also durable and long-lasting. And with our fast and reliable turnaround times, you can have your new sign up and attracting customers in no time. Trust Apogee Signs to help your business or organization make a lasting impression with a custom outdoor sign that truly sets you apart from the competition.
What are outdoor signs?
Any sign used outdoors can be considered an outdoor sign. But it is so much more than that.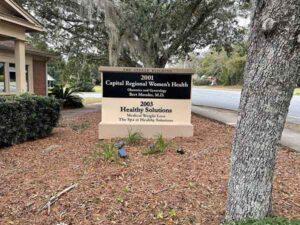 Apogee Signs will help you determine the best option for your business as we learn about your specifications of needs to be provided. 
Factors such as weather, business visibility, sign location, location of other signs and businesses, etc. are just a few of the factors we will consider when thinking about custom outdoor sign options.
For companies just looking to fabricate and/or install, Apogee has you covered. As a state-licensed and insured sign installation company, we utilize our high-lift crane and operator. This allows us to ensure we have control over each aspect of your project to guarantee sign perfection!
Contact us today and we'll discuss how you can make your outdoor signage dreams come true.