We specialize in creating custom outdoor signs that elevate your business or organization. Our experienced professionals collaborate closely with you to design a one-of-a-kind sign that perfectly embodies your brand's identity and captures the attention of your target audience. Offering a diverse selection of high-quality materials and styles, including illuminated, metal, and wooden signs, we ensure your outdoor sign is as unique as your business. From small directional signs to large billboard-style displays, our state-of-the-art design and manufacturing technology allows us to create signs of all shapes and sizes.
At Apogee Signs, our commitment to quality and customer satisfaction is unparalleled. We utilize the highest quality materials and employ the latest techniques to deliver visually stunning, durable signs that withstand the test of time. With our fast and reliable turnaround times, you can swiftly have your new sign installed and start attracting customers. Trust Apogee Signs to help your business or organization leave a lasting impression with a custom outdoor sign that truly sets you apart from the competition.
Outdoor signs are a vital component of any business's marketing and brand strategy. At Apogee Signs, we specialize in creating exceptional outdoor signs that make a lasting impact. Our expertise lies in understanding the unique power and potential of outdoor signs in capturing attention, conveying messages, and enhancing the visibility of your business.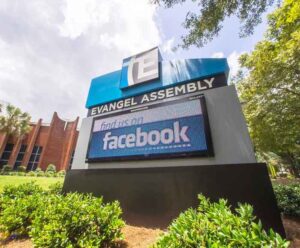 When it comes to outdoor signs, Apogee Signs goes beyond the standard definition. We recognize that outdoor signs are not just mere displays, but powerful tools for communication and brand representation. Our dedicated team takes the time to delve into your business's specific needs and goals, considering factors such as weather conditions, optimal placement, visibility, and neighboring signage. This meticulous approach ensures that we design and deliver outdoor signs that perfectly align with your business's identity and objectives.
At Apogee Signs, we take pride in our comprehensive services, offering both fabrication and installation. As a state-licensed and insured sign installation company, we possess the necessary resources and expertise to bring your outdoor sign vision to life. Our skilled professionals employ advanced techniques and utilize cutting-edge equipment, including a high-lift crane, to ensure precise installation and flawless execution of your outdoor sign.
When you choose Apogee Signs for your outdoor signage needs, you gain a trusted partner committed to delivering outstanding results. We understand the significance of outdoor signs in creating a strong first impression, attracting customers, and differentiating your business from the competition. Let us help you harness the potential of outdoor signs to maximize your business's visibility, impact, and success.
Contact Apogee Signs today, and let's embark on a collaborative journey to create extraordinary outdoor signs that elevate your brand and make a lasting impression on your target audience.