Outdoor signs can be used to advertise a business, promote an event, or simply add a bit of personality to your outdoor space. Weather resistant signage is especially important to consider when choosing outdoor signs since they will be exposed to the elements all year round. There are many types of outdoor signs available, including vinyl banners, yard signs, LED displays, and more. No matter what type you choose, outdoor signage custom made by Apogee Signs is sure to draw attention and make a statement about your business or event.
What are outdoor signs?
Any sign used outdoors can be considered an outdoor sign. But it is so much more than that.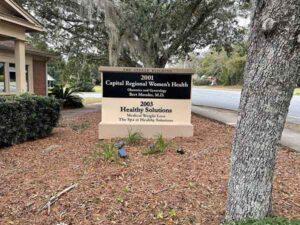 Apogee Signs will help you determine the best option for your business as we learn about your specifications of needs to be provided. 
Factors such as weather, business visibility, sign location, location of other signs and businesses, etc. are just a few of the factors we will consider when thinking about custom outdoor sign options.
For companies just looking to fabricate and/or install, Apogee has you covered. As a state-licensed and insured sign installation company, we utilize our high-lift crane and operator. This allows us to ensure we have control over each aspect of your project to guarantee sign perfection!
Contact us today and we'll discuss how you can make your outdoor signage dreams come true.