Welcome to Apogee Signs, your ultimate destination for tailored business signage solutions. Serving North Florida, including Tallahassee and surrounding cities, as well as South Georgia, we've been a leading force in the signage industry for over 35 years.
At Apogee Signs, we understand the unique nature of every business. Our dedicated team of designers and fabricators works closely with you to bring your vision to life, creating signs that authentically represent your brand. Whether it's a small storefront sign or a striking monument sign, we have the expertise and resources to deliver exceptional results.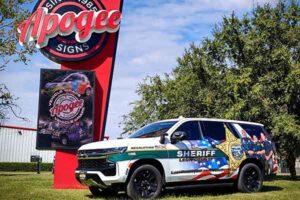 We take pride in our craftsmanship, using only top-quality materials and cutting-edge technologies to ensure your sign stands the test of time. Our expert installation team ensures every sign meets local codes and regulations.
But we don't stop at installation. Apogee Signs also offers ongoing maintenance and repair services to keep your sign looking and functioning at its best. Our commitment to quality and customer satisfaction is unmatched.
So, why choose Apogee Signs for your business signage needs? With over three decades of experience, a team of skilled professionals, and a commitment to excellence, we're your best choice for signage in North Florida and South Georgia. Contact us today to get started on your custom sign project!