Subdivision and apartment community signage is an important aspect of any property's marketing and branding strategy. Well-designed entrance monuments, neighborhood signs, and apartment complex signs can create a unique identity for your property, helping it stand out in a competitive market. Effective signage in a subdivision or community can also help potential buyers identify the area they are looking at, while apartment signage can help tenants find their way around the complex.
We understand the importance of creating custom subdivision and apartment community signage that accurately reflects your brand and messaging. Our team of experts will work with you to design and manufacture high-quality signs that will enhance your property's curb appeal and make it more attractive to potential buyers or tenants. We use only the highest quality materials and the latest technology to ensure that your signs are durable and long-lasting, requiring minimal maintenance over time. Contact us today to learn more about our subdivision and apartment community signage options and how we can help enhance your property's curb appeal.
Apartment and subdivision community entrance signs are a critical design feature for any community and a great way to increase the appeal of residents, visitors and potential home buyers.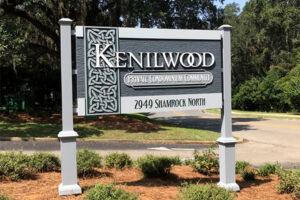 We know you know this, but first impressions are essential, and your subdivision entrance sign is the first impression people have of your community. A neighborhood sign should be bright, accurate, and informative, yet convey a positive image of your community.
Most neighborhoods and residential communities need signs that stand out and are visible, but they also need signs that are durable and weather resistant.
Apogee Signs has created hundreds of outdoor subdivision signs over the years in the North Florida and South Georgia area and will work with you to design your community signage.