Apogee Signs is the premier provider of custom business signage in Panama City, FL. We have been designing, fabricating, installing, and maintaining high-quality signs for over 35 years, earning a reputation as the go-to for businesses of all sizes and industries in the Panama City area.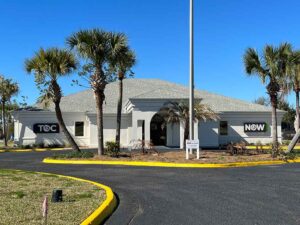 Our team of expert designers and fabricators are passionate about creating unique, custom signage that reflects the personality and branding of your business. We work closely with each client to ensure that their vision is brought to life in a way that captures attention and accurately represents their brand and message.
At Apogee Signs, we offer a comprehensive range of services to meet your every need. Our design team will work with you to create a custom design that perfectly captures the essence of your brand and showcases it in the most effective way possible. Our expert fabricators will then craft your sign using high-quality materials and cutting-edge technology to ensure that it is built to last.
Once your sign is complete, our installation team will carefully position and secure it for maximum visibility and impact. We understand that your business is your livelihood, and we take great care to ensure that your new sign is installed safely and securely.
But our services don't stop there. We also offer comprehensive maintenance and repair services to keep your sign looking great for years to come. Our team has the expertise and experience to handle everything from routine cleaning and upkeep to major repairs and restoration.
At Apogee Signs, we are committed to delivering exceptional service and high-quality signage to every client, every time. We understand that your sign is often the first impression that potential customers have of your business, and we take that responsibility very seriously. That's why we go above and beyond to ensure that every sign we create is a true reflection of your brand and message.
If you're looking for a custom sign that truly stands out and accurately represents your business in Panama City, look no further than Apogee Signs. Contact us today to learn more about our services and how we can help take your business to the next level with a custom sign that truly represents you.