There are many custom sign installation companies out there to choose from. Apogee Signs serves Tallahassee, Thomasville, and all of North Florida and South Georgia areas. As a full-service sign company, we work with you from start to finish.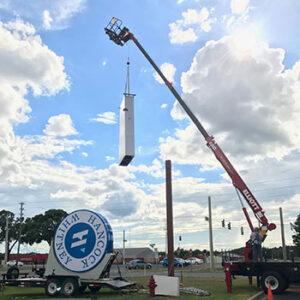 Working with us will give you the distinct advantage of getting customized design time during the creation and production process. We are also aware of local signage restrictions and will be able to help you with any necessary sign permits required for sign installation.
We offer comprehensive sign installation services to ensure that our clients' signs are installed safely, securely, and effectively. Our installation team consists of experienced professionals who are trained to handle all aspects of the installation process, from site surveys and permitting to installation and maintenance. We utilize state-of-the-art equipment and techniques to ensure that the signs are installed properly and meet all necessary safety standards.
While you can save some money upfront with an online company, you need to hire an installation crew to install your new signage. Our sign design, fabrication, and installation team far outweighs the small amount you will actually save if you save.
Not all custom sign installation companies have the same quality of work. They can vary a lot, so to find the best one, you'll need to research. At Apogee Signs, we take pride in our work and make sure you are 100% satisfied with our sign installation services.
Frequently Asked Questions About Sign Installation Service