School signs play a crucial role in creating a positive and productive learning environment. Well-designed signs can help to improve navigation, promote school pride, and enhance safety and security on campus. Whether you're a K-12 school, community college, or university, we understand that your signage needs are unique and require a tailored approach. That's why we offer a wide range of custom school signs that are designed to meet the specific needs of your institution. From indoor and outdoor directional signs to digital displays and wayfinding systems, our team of experts can create high-quality signage that will effectively communicate your brand and message to students, faculty, and visitors. With over a decade of experience in the signage industry, we are committed to delivering exceptional quality and customer service to every client. Contact us today to learn more about creating custom school signs and how we can help you create a safer, more welcoming, and more effective learning environment.
Custom-designed 
school signs
 are a staple for every school and help identify the school to visitors and communicate upcoming events to the community.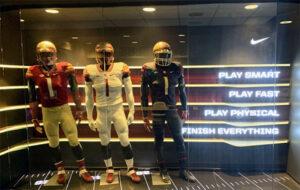 School
entrance signs
 are great for welcoming visitors and directing them to where they need to go.
Custom 
indoor school signs
 such as a school directory and directional signs so faculty, students, staff, and visitors can easily make their way around the building.
Stadium signage
 is excellent for schools that have sporting events, letting the patrons know that they're in the right place. If your school has a large sports complex, utilize stadium signs to direct visitors to parking lots and entrances or use them as row markers to guide ticketholders to their seats.
Here are some school signage ideas:
Provide reminders to students and staff
Build excitement for upcoming events
Highlight the campus directory
Celebrate teachers and staff members
Share helpful tips with students and the community
Wall-mounted school signs are the perfect solution if you need a high-visibility logo that can be built in any pitch, resolution, or size. These signs are also a great option if your school has limited space.