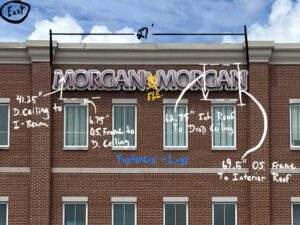 At Apogee Signs, we understand that signage is a critical component of your brand identity and marketing strategy. That's why we offer comprehensive sign surveys that go beyond measuring dimensions and locations. Our experienced surveyors will evaluate your site and existing signage, take accurate measurements, and note any potential obstacles or opportunities. Based on this information, they will recommend custom sign solutions that enhance your brand visibility, match your aesthetic preferences, and comply with local regulations.
Benefits of Sign Surveys from Apogee Signs
Accuracy and completeness: Our surveyors use state-of-the-art equipment and software to ensure precise and detailed measurements and notes. We factor in environmental conditions and safety requirements to determine the best positioning and materials for your signs.

Customization and creativity: We work closely with you to understand your branding goals, target audience, and messaging. We propose custom sign designs that capture your brand personality and attract attention, while also considering the architectural style of your building and the surrounding landscape.

Compliance and safety: We are well-versed in the local codes and regulations regarding signage. We prioritize safety and durability when recommending sign materials and installation methods.

Cost-effectiveness and transparency: We offer competitive pricing without compromising quality or service. We provide transparent quotes and timelines, so you know exactly what to expect from the sign survey to the installation.
Get Started with Apogee Signs Today!
Contact Apogee Signs today to schedule a sign survey and enhance your brand visibility with high-quality signs that match your branding goals and budget.