Real estate signs help potential buyers identify properties and draw attention to them from passersby on nearby streets. Coming in various shapes, sizes, and designs, real estate signs can be used for a variety of purposes such as for sale signs, rider signs, or open house signs. With the help of custom real estate signage, agents can easily promote their property listings and increase visibility in the local market.
First impressions are everything, and as a real estate agent, you depend heavily on signals from your yard to generate business.
Real estate signs come in various shapes and sizes. This includes posts, a-frames, rider frames, riders, and many other options.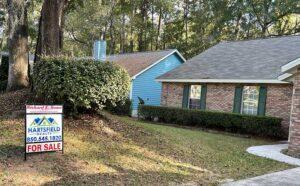 Real estate signage is very important in promoting your listings and properly advertising the sale of a property. Real estate signs provide information for prospective buyers or renters to contact you regarding the purchase or rental of property. The usual real estate sign that you see the most would is generally 18×24 horizontal or 24×18 vertical.
In addition to the main real estate sign, real estate sign riders are smaller sign that is usually placed either below or above the larger sign frame. Real estate riders are generally 24"x6" signs that complement other real estate signs and are perfect for advertising the features of the property or as an additional advertising call-out.
Apogee Signs can design and create custom-made real estate signs to fit your needs. Give us a call and let us provide you with custom signs, riders, post signs, routed signs, and any type of sign you want, we can make it for you.