Over the past 35+ years serving the Tallahassee and Thomasville areas, we've become the go-to provider for custom illuminated signs that will give your business a competitive edge. Our team of experienced professionals is dedicated to crafting lighted signs that not only capture your brand's essence but also effectively communicate your message to potential customers. We offer a vast selection of options, including backlit channel letters and cutting-edge LED displays, all designed with the latest technology and the utmost attention to detail.
We believe that every business has unique needs, and that's why we provide a personalized approach to every project. We work closely with you to understand your brand's identity and your specific requirements, ensuring that we create a sign that not only looks great but also serves your business's needs. Our team uses only high-quality materials and state-of-the-art technology, guaranteeing that your sign will remain vibrant and effective for years to come. Whether you need a storefront sign, monument sign, or any other lighted sign, Apogee Signs is your one-stop-shop for exceptional quality and outstanding customer service.
Lighted signs are one of the most popular and frequently used sign development methods. The beauty of this is that different styles of signs can be put together to become one glowing sign.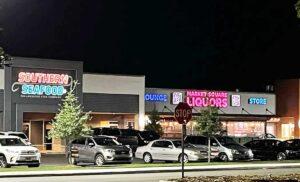 Certain types of lighting are recommended by Apogee Signs as they provide a clean and sophisticated sign that will attract the attention of others! Backlit signs also give a very vibrant and colorful feel which creates the best first impression for your business.
One of the most popular options today is to use channel letters, LED billboards, or other signage methods and then illuminate them. Lighted monument signs are also a very popular method in use today.
Apogee Signs not only has the experience, but also the design and fabrication team to provide your business with a one of a kind lighted sign that will be the talk of the town. Additionally, Apogee can fabricate and install any pre-existing sign specifications to perfection.
Either way, Apogee Signs is the one call you should make for your lighted signage needs.