For over 35 years, we have proudly served the Tallahassee and Thomasville areas, establishing ourselves as the leading provider of custom lighted signs that give businesses a competitive edge. Our team of seasoned professionals is committed to designing illuminated signs that not only embody your brand's essence but also effectively convey your message to potential customers. With an extensive range of options to choose from, including backlit channel letters and cutting-edge LED displays, our designs incorporate the latest technology and meticulous attention to detail.
At our core, we understand that every business has unique needs, which is why we adopt a personalized approach for each project. By closely collaborating with you, we gain insight into your brand's identity and specific requirements, ensuring the creation of a sign that not only boasts exceptional aesthetics but also serves your business's objectives. Employing only top-quality materials and state-of-the-art technology, we guarantee the vibrancy and effectiveness of your sign for years to come. Whether you require a storefront sign, monument sign, or any other form of illuminated signage, Apogee Signs is your ultimate destination for unmatched quality and exceptional customer service.
The utilization of lighted signs remains consistently popular and widely embraced in the realm of sign development. What makes this approach truly captivating is its versatility, as it allows for the seamless integration of various sign styles, resulting in a unified and radiant display.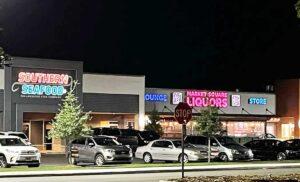 When it comes to creating signs that demand attention, Apogee Signs recommends specific lighting techniques that exude cleanliness and sophistication. These methods are designed to captivate onlookers and make a lasting impression on behalf of your business.
Among the most popular choices today is the integration of illuminated elements such as channel letters, LED billboards, and other signage methods. By combining these techniques with strategic illumination, your signs acquire a vibrant and colorful aesthetic that leaves a remarkable first impression.
Furthermore, Apogee Signs possesses not only the expertise but also a skilled team proficient in design and fabrication. This ensures that your business receives a distinctive and exceptional lighted sign that becomes the talk of the town. Additionally, should you have existing sign specifications, Apogee can flawlessly fabricate and install them to perfection.
No matter the requirements, Apogee Signs is your go-to source for all your illuminated signage needs. Make that call today and elevate your business with our expertise.