Monument Signs are larger signs used to identify a specific location or entrance. They are commonly used in commercial and residential developments such as subdivisions, apartment complexes, and office parks. Monument Signs can be made of various materials such as aluminum, wood, stone, or brick and can come in a variety of shapes and sizes. Monument signage is a great way to make an impactful first impression on visitors to your location.
Monument signs provide the opportunity to give an even more refined and prestigious look to your business's signage. Whatever you have in mind, Apogee Signs will guide you through the design, development, and installation phase.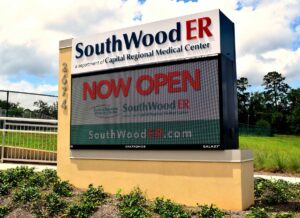 The most popular monument styles include brick or the placement of signs between two columns or poles. A more recently popular method of monument sign construction is to build them out of foam.
No matter what type of signage you're looking for, Apogee Signs will help you represent your business or community in the most professional way possible.
Monument signs also provide a lot of versatility. They can be lighted signs and include a LED message center sign.
Give us a call or send us a request for a quote and let us help you create the perfect monument signage for your business, church, or facility.