Architectural signs are a type of business sign that is used to identify and promote a business or organization. These signs are typically mounted on the façade of a building, and can range from simple text-based signs to complex graphic designs. Architectural signs have become an important part of the overall design of many businesses and organizations, as they provide an effective way to communicate information about the business and attract customers.
Architectural signage refers to custom building signs or a building signage system implemented throughout a commercial space.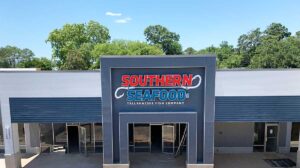 Architectural signs are generally constructed of materials such as aluminum, plastic, expanded polystyrene, and high foam, or construction materials such as brick, concrete, or stone are often used.
These signs are a great choice among supermarkets, hotels, and commercial businesses as they let customers know the location and purpose of the company.
Architectural building signs are an excellent choice for churches and corporate buildings as well, as they can foster a more comfortable and welcoming environment.
Apogee Signs provides the design, fabrication, and installation of architectural building signage for the North Florida and South Georgia areas.