Architectural signs are a versatile and effective marketing tool that can be customized to suit any business's needs. These signs are typically installed on the facade of a building, making them a highly visible means of communication with the public. By incorporating a business's name, logo, and other important information, architectural signs can enhance a business's visibility and brand recognition.
Another significant advantage of architectural signs is their ability to incorporate unique design elements that enhance a business's overall design strategy. From innovative shapes and colors to the use of high-quality materials, architectural signs can create a memorable and distinctive impression on potential customers. By partnering with Apogee Signs to design and install a custom architectural sign, businesses can stand out in a competitive market, build brand recognition, and ultimately drive revenue growth.
Architectural signs are specialized signs that are designed and fabricated for use in and on buildings. They serve various purposes, including wayfinding, accessibility, identification, branding, and safety.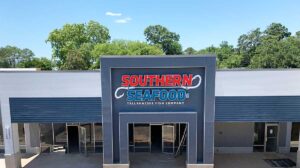 The fabrication and design of architectural signs involve the selection of appropriate materials, the creation of legible, aesthetic, durable, and compliant designs, and the execution of a multi-step fabrication process, including material preparation, printing, cutting, assembly, and finishing. Once the sign is fabricated, it needs to be installed in the appropriate location, involving a site survey, preparation, sign installation, wiring and electrical work (if illuminated), and cleanup.
When it comes to installing architectural signage, Apogee Signs follows a comprehensive process to ensure that the signs are installed correctly, safely, and in compliance with local codes and regulations. This process includes a site survey to assess the location, preparation of the installation site, sign installation using the appropriate method, wiring and electrical work (if the sign is illuminated), and cleanup of the installation area.
Apogee Signs also places a high priority on customer service and communication throughout the entire process, from initial design and consultation to installation and follow-up. They work closely with clients to understand their goals, preferences, and budget, and provide regular updates and feedback to ensure that the project meets their expectations.
In closing, Architectural signs are essential for the appearance, functionality, and safety of buildings, and their fabrication, design, and installation involve a comprehensive process that considers various factors, such as purpose, material, design, compliance, and location. By investing in quality architectural signs, organizations can enhance their image, improve their accessibility, and provide clear directions and information to visitors and tenants.
Apogee Signs provides the design, fabrication, and installation of architectural building signage for the North Florida and South Georgia areas.