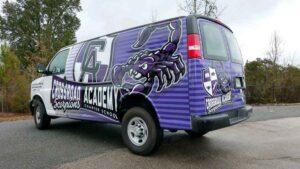 Vinyl car wraps have gained immense popularity in the automotive customization industry, allowing vehicle owners to transform their rides into unique works of art. These vibrant and versatile adhesive skins not only enhance the aesthetics of your car but also offer an effective means to protect its paintwork from the wear and tear of daily use. Beyond personal expression, vinyl wraps have become a powerful tool for businesses to promote their brand while on the move. Whether you're seeking to turn heads on the road, safeguard your vehicle's finish, or create a mobile billboard for your company, vinyl wraps provide an eye-catching and adaptable solution. However, when it comes to pricing a vinyl car wrap, several factors come into play, making it essential to navigate this terrain with insight and understanding. In this article, we'll delve into the key considerations that influence the cost of a vinyl car wrap, helping you make informed decisions about this exciting customization option.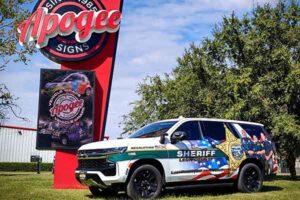 Pricing a vinyl car wrap involves careful consideration of various factors, including material quality, design complexity, vehicle size, labor, and installation, wrap type, color and finish, durability, and additional services. To get the most accurate estimate for your specific project, consult with experienced vinyl wrap professionals who can assess your needs and provide a tailored quote. Remember that while the cost of a vinyl car wrap can vary, the investment can pay off in terms of protection, customization, and visual appeal for your vehicle.
If you find yourself in the Tallahassee area and are eager to embark on this exciting journey, look no further than Apogee Signs. Our expert team is dedicated to the art of vinyl wraps, with a focus on creating eye-catching, durable, and fully customized designs. With Apogee Signs, your vehicle can become a mobile work of art or a highly effective promotional tool, commanding attention wherever you go. Don't hesitate to reach out to Apogee Signs today to discuss your unique vinyl wrap project. Let us bring your vision to life with precision, creativity, and unparalleled expertise. Your journey toward a beautifully wrapped vehicle starts with a single call to Apogee Signs.