In today's competitive business world, effective advertising is key to success. One of the most popular and effective ways to promote a business is using digitally printed vinyl banners. Vinyl banners are durable, versatile, and cost-effective, making them an ideal choice for businesses of all sizes. And with the advent of digital printing technology, the possibilities for creating eye-catching and impactful banners are virtually endless.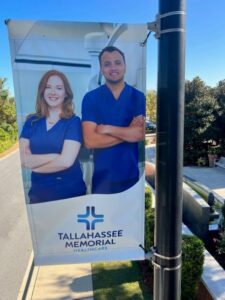 The benefits of digitally printed vinyl banners for businesses are numerous. Here are some of the key advantages:
Versatility: Vinyl banners can be used for a wide range of applications, from outdoor events and trade shows to indoor displays and promotions. Digital printing technology allows for banners to be printed in various sizes and shapes, making it easy to create custom banners for any occasion.
Cost-effective: Vinyl banners are an affordable way for businesses to advertise their products and services. Compared to other forms of advertising, such as television or radio commercials, vinyl banners are relatively inexpensive to produce and can be used repeatedly for multiple events.
Durability: Vinyl banners are designed to withstand a range of weather conditions, including wind, rain, and sunlight. This means that businesses can use their banners for both indoor and outdoor advertising. With proper care a temporary solution for your business can last several years if maintained and stored properly when not being used. When in use, it is also important to install it correctly, as to not put excessive tension or stress to the vinyl that can shorten the lifespan.
Customizability: Digital printing technology allows for businesses to create highly customized banners that reflect their brand identity and messaging. Whether it's a logo, slogan, or product image, businesses can create banners that speak directly to their target audience and make a lasting impression.
Impactful: With the use of full-color printing and high-quality vinyl material, digitally printed vinyl banners have a visual impact that cannot be matched by other forms of advertising. They are eye-catching, attention-grabbing, and can help businesses stand out in a crowded market.
All in all, digitally printed vinyl banners are a key tool for businesses looking to promote their products and services in a cost-effective and impactful way. They offer versatility, customizability, and durability, making them a valuable investment for any business. By working with Apogee Signs, we can create high-quality banners so your business can make a lasting impression on your target audience and drive sales and growth for your business.