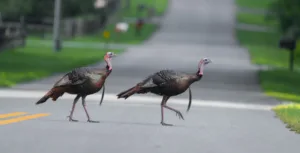 When we think of road signs, our minds often jump to the usual suspects: stop signs, yield signs, and those confusing merge signs that seem to have been designed by a committee with a sense of humor. But in the world of traffic signage, there's a quirky and vital category often overlooked – animal crossing signs. Among these, one sign stands out with a feathered flair: the turkey crossing sign. In this article, let's explore the fascinating history of turkey crossing signs, their importance in wildlife conservation, and the unexpected link they have with saving Thanksgiving feasts.
The Origins of Turkey Crossing Signs
Turkey crossing signs, like their fellow animal crossing signs, have an origin story rooted in road safety and wildlife preservation. These signs made their debut back in the early 20th century in the United States, a time when the expanding road networks led to more fowl (pun intended) encounters between vehicles and our feathered friends.
Initially, these signs were introduced in places where animals and wild turkeys roamed freely. The idea was simple: warn drivers about the potential presence of turkeys on the road and remind them that they share their asphalt kingdom with these majestic birds. Over time, the design of these signs evolved to feature an unmistakable turkey silhouette, giving drivers a clue about what to expect.
The Importance of Turkey Crossing Signs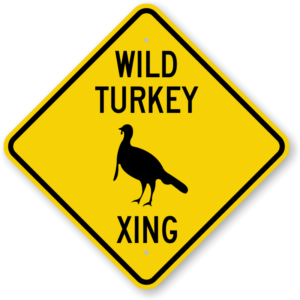 Preventing Accidents: Turkey crossing signs are like Mother Nature's traffic cops. They urge drivers to take their feet off the gas pedal when turkey territory is near. Turkeys, like some pedestrians, can sometimes be a bit reckless when crossing the road, so a little slowdown goes a long way in preventing turkey traffic jams – the kind that doesn't involve cars.
Protecting Wildlife: These signs remind us that our highways are more than just human thoroughfares; they're shared spaces. By making drivers aware of the turkeys and other critters trying to navigate their way around, these signs help safeguard our feathered and furry friends.
Saving Thanksgiving Turkeys: Now, here's where the tale takes a tasty twist. The wild turkeys protected by these signs are often the cousins of those delicious gobblers that grace our Thanksgiving tables. By ensuring the safety and preservation of these wild birds, we're also securing the continued tradition of Thanksgiving dinners with a golden-brown centerpiece.
Turkey crossing signs may not be the rock stars of the road sign world, but they play a crucial role in both road safety and wildlife conservation. They're a reminder that our roads are shared with countless other species and that a little awareness and caution can go a long way in preserving biodiversity. So, the next time you spot a turkey crossing sign on the road, appreciate the quirkiness of it all and remember that it's not just about slowing down for turkeys; it's about protecting a Thanksgiving tradition and showing a little love to our wild neighbors, too.