Laser engraving is becoming increasingly popular due to its accuracy and ability to create detailed designs quickly and easily. Being a highly precise way to create intricate designs on various materials such as wood, metal, glass, stone, and plastic, laser engraving can create beautifully engraved signs for your business signage needs.
Laser engraving is a process that vaporizes materials into fumes to engrave deep, permanent marks into the desired substrate.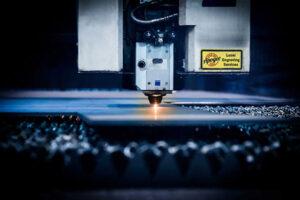 The laser acts as a blade, inscribing marks by removing layers from the surface of the material. The laser strikes the area with high intensity to generate the heat required for engraving the material.
At Apogee Signs we use the most advanced technology, so you know you are getting the best. Our team uses computerized lasers and routing machines to engrave with precision.
We also offer a variety of color engraving options. Our affordable engraved signage will help your business attract customers with visible, impactful advertising within your budget, so you can get signage that helps your business generate more business.